"It's never quite dark on the Street of Eyes, but the shadows there grow large, and deep. You go to find a job. There's no telling if you'll be coming back."

This is the home of game developer and SF/F author Ryan A. Span — that's me. I get up to a lot of things, and the lion's share of this site is about my books and my video game work. Check below for news about recent releases and more info about the site in general.

The Zone: Stalker Stories, coming soon!

The Next World: Rocketship DLC, released 13 July!

Golem Creation Kit, released 14 July!

The Next World: Planetary Exploration expansion, released 7 August!

Felt Tip Circus, released 5 April for the HTC Vive!

The Next World, released 7 March!

Euclidean releases on Steam!
This is my game from the ground up. Core ideas, design, and more. Super proud and glad that people like it.

The Impostor Prince is out — with audiobook version and free sample!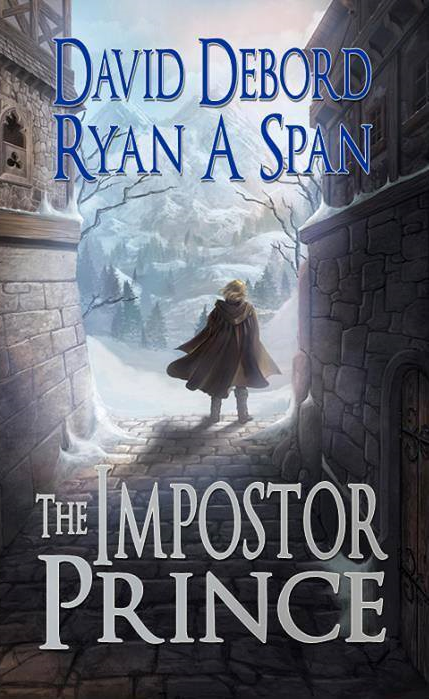 Check out the shiny new entry on my Purchasing page.
"Killing a man in the heat of the moment, violating a sacred peace among the criminals of Ralon's Bend, a young thief called Joren sets off a chain of events he could never have imagined. Banished from his home. Caught up in the political intrigue of nations. Wandering the world with his friend Mattal, the only witness to Joren's crime, trying to fix the mess he caused.
The only way to do that is to become royals—or at least to pretend. But can they carry the deception far enough to save a kingdom, a princess, and a hundred years of peace? And if they're found out, can they spare their own necks from the hangman's noose?"
"Invokes the same sense of wonder and joyous fantasy as two of the very best writers I grew up with-David Eddings and Terry Brooks. A world full of magic, sly humor and gripping adventure. This is the stuff fantasy is made of." — Matthew Caine, New York Times and USA Today bestselling author of Ghosts of the Conquered

I also use this site to serialise STREET, my trilogy of online cyberpunk novels.
STREET is a complete series, originally published as a web serial from 2007 to 2013, with print/e-book versions published by Gryphonwood Press. The first book, Empathy, is always online for free. The other two, Clairvoyance and Precognition, are continually serialised (also for free) at a rate of one chapter per week until we run out of chapters in December. Every year on 14 January, the anniversary of the site, the serial run starts over from the beginning. New chapters appear one minute past midnight on Wednesdays. (NOTE: Serial run is currently on hold. Feel free to read the whole trilogy here if you'd like.)
I encourage you to buy the print or Kindle/e-book version, supporting your humble author. They're not expensive. However, if you like the serial experience, it really comes completely free. No ads, no obligations, no bollocks.
If you're a new visitor and want to get to STREET without any hassle, you'll most likely want to start at the beginning. Alternatively, our Purchasing page will direct you where to go for the aforementioned Gryphonwood versions. Lastly, you can find some other STREET-related goodies in our Cool Stuff section.
Check back regularly to find new chunks of deliciousness waiting for you. You can even use our handy RSS feed to stay abreast of updates.
If you like what you read, and please consider leaving a review for us at Amazon, Goodreads, or elsewhere! There's nothing else you can possibly do that's quite as helpful in supporting an indie author. Trust me on that one.
Legal notice: All content on these pages is copyrighted (c) 2006-2017 by Ryan A. Span. It is displayed here free of charge, but reprinting or reuse of this content — whole or in part — is strictly prohibited.