WRITTEN IN BLOOD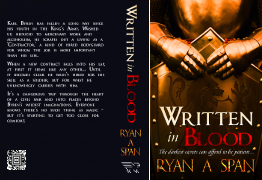 "Karl Byren has fallen a long way since his youth in the King's Army. Washed up, reduced to mercenary work and alcoholism, he scrapes out a living as a 'Contractor,' a kind of hired bodyguard for whom the job is more important than his life.
When a new contract falls into his lap, at first it seems like any other… Until it becomes clear he wasn't hired for his skill as a soldier, but for what he unknowingly carries with him.
It's a dangerous trip through the heart of a civil war and into places beyond Byren's wildest imaginations. Everyone knows there's no such thing as magic — but it's starting to get too close for comfort."
Written In Blood is available at:
Ebooks
Amazon Kindle
B&N Nook
Kobo
Print
Amazon Paperback
Amazon UK Paperback
Amazon DE Paperback
WRITTEN IN BLOOD
ISBN 10: 1940095417
ISBN 13: 978-1940095417
REVIEWS
TBA
THE IMPOSTOR PRINCE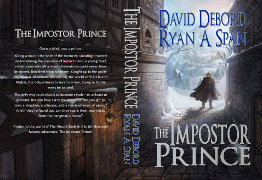 "Killing a man in the heat of the moment, violating a sacred peace among the criminals of Ralon's Bend, a young thief called Joren sets off a chain of events he could never have imagined. Banished from his home. Caught up in the political intrigue of nations. Wandering the world with his friend Mattal, the only witness to Joren's crime, trying to fix the mess he caused…"
"Invokes the same sense of wonder and joyous fantasy as two of the very best writers I grew up with-David Eddings and Terry Brooks. A world full of magic, sly humor and gripping adventure. This is the stuff fantasy is made of." — Matthew Caine, New York Times and USA Today bestselling author of Ghosts of the Conquered

The Impostor Prince is available at:
Ebooks
Amazon Kindle
B&N Nook
iStore
Kobo
Print
Amazon Paperback
Amazon UK Paperback
Amazon DE Paperback
THE IMPOSTOR PRINCE
ISBN 10: 1940095379
ISBN 13: 978-1940095370
REVIEWS
"I absolutely adored this book. I loved every second I spent reading it. The journey Matt and Joren embark on is fun and enchanting and the changes they go through just captures your attention…" — Amazon Customer Review
"…This is a great adventure story with believable characters. If you like fantasy, magic, sword fighting, and adventure this is a story you will want to read. Adults will enjoy it and it is perfect for young adults." — Amazon Customer Review
"…This is one of those stories that pulls you in from the start and has you thinking about it long after you're finished." — Amazon Customer Review
"Great book, convincing story and great characters. It's fast paced but not too much so! Good conflict as well. Most importantly it has what any good fantasy SHOULD have, a sense of mystery! Not the 'who dunnit' mystery, but the kind that makes the world bigger…" — Amazon Customer Review
See more ratings and reviews for The Impostor Prince on Goodreads.
STREET: OMNIBUS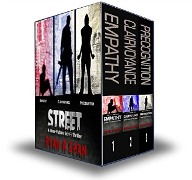 Get the whole STREET series in one easy-to-manage collection! The omnibus edition contains all three books, Empathy, Clairvoyance, and Precognition. Links to the old volumes below.
Try Empathy for free on Amazon Kindle!
The STREET Omnibus is available at:
Ebooks
Amazon Kindle
Kobo
REVIEWS
"…the cover caught my eye, and continues to be caught by the excellent style of the writer. A great book for anyones collection and a author to look out for in the future." — Amazon Customer Review
"Visual and fast-paced . . . Perfect for cyberpunk fans who who like a little edge in their novels." — Flames Rising Review
"Definitely worth reading . . . Ryan Span [has] the balls . . . and the talent to make a pretty good story." — Cyberpunk Review
"…this book really drew me in with its characters and perfect take on a future dystopia. The plot is well written and most importantly of all, very well paced in all the right places…" — Amazon Customer Review
PRECOGNITION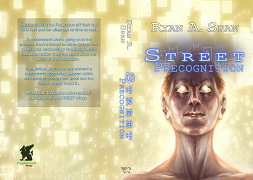 STREET: Precognition (Book 3) is available at:
Ebooks
Amazon Kindle
Smashwords
Print
Amazon Paperback
PRECOGNITION
ISBN 10: 1-9400951-1-5
ISBN 13: 978-1-9400951-1-0
If your favourite retailer isn't listed here, do a search on their website, or request them to add it to their catalogue! If you're not able to buy online, you can order any of my books from your local bookshop or library using the listed ISBNs.